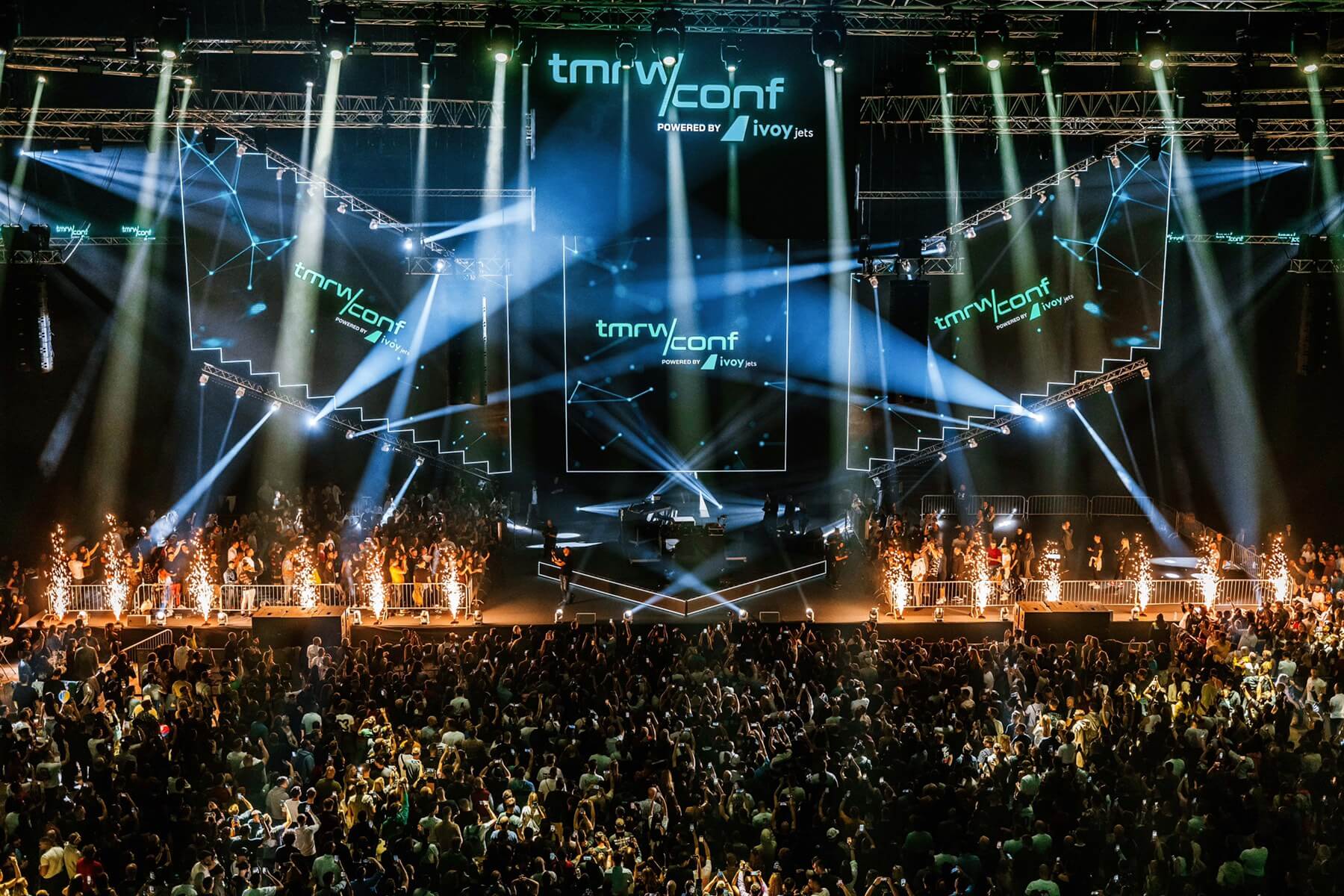 TMRW Conference at Belgrade Arena Stark: Mission accomplished!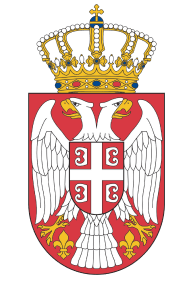 Event supported by the Government of the Republic of Serbia
TMRW is the largest emerging tech event in Europe that brings together 40.000+ in-person and online attendees and 100+ speakers to focus on the most interesting trends in ARTIFICIAL INTELLIGENCE, BLOCKCHAIN, METAVERSE & GAMING.
Get to know the experts, investors, and business developers of the web3 world, listen to their ideas, and expand your experience!
Let's INNOVATE THE FUTURE together in Belgrade from 12-14 May 2023!
Belgrade / Dubai / THE LARGEST EMERGING TECH EVENT OF THE YEAR /
TMRW SPEAKERS BELGRADE 2023
Platinum & VIP experience

EXPECTATIONS BY THE NUMBERS
THE LARGEST EMERGING TECH EVENT COMING TO
Blockchain and the law: the rule of code
The rule of code refers to the idea that the rules and terms of a blockchain network or smart contract are encoded into software and are automatically enforced without the need for traditional legal enforcement mechanisms.
The rule of code has the potential to create more transparency and efficiency in legal processes, as the terms of a smart contract or blockchain network are clearly defined and automatically enforced.
Overall, the rule of code is an important aspect of the legal implications of blockchain technology, and it will be a topic of debate at the TMRW Belgrade!
Universal adaptation of cryptocurrencies
It's time for us to let you in on a little secret: cryptocurrency adoption isn't just about buying and holding. It's more than that – it's about using cryptocurrency for good!
You see, when we talk about the "universal adoption of cryptocurrencies," we don't just mean that everyone should be using them for their own personal gain. We mean that people should be using them because they're good for other people too – for the environment, for society as a whole, and even for themselves!
That's what makes it universal: everyone benefits from it.
For universal adoption to occur, several factors need to be considered, such as security, scalability, and user experience. Additionally, there also needs to be proper regulation and infrastructure in place to support the use of cryptocurrencies.
So how do you get started? It's easy! Just come to TMRW Belgrade.
Decentralization against censorship
There's no doubt about it. That's why cryptocurrency has gotten so popular in the first place, isn't it?
It's also why we believe in decentralization. We believe that independent control and trustless connections are great things to have and that they should be available to everyone—not just to a select few. We believe that financial independence and data reliability are important goals to pursue. 
Although decentralization has both advantages and disadvantages, the former far outweighs the latter.
In the future, we may see more cryptocurrencies developed, specifically designed to retain all the decentralization benefits while also eliminating some of the downsides; if this is the case, the power of decentralization is only going to become stronger.
Why AI-based projects are the future?
We're not here to tell you what to think about AI—we're just here to help you understand it. 
Are you impressed with AI? Are you scared? Are you skeptical? Whatever you are feeling, get used to it. 
As we learned so far, the same technologies that have the potential to improve the lives of billions of people by making them happier, healthier, and more productive are also posing new challenges to governments and ordinary people around the world.
Everything you wanted to know but were afraid to ask about Artificial Intelligence!
AI has already become an increasingly important technology in recent years, with applications ranging from chatbots to self-driving cars.
However, we all have some questions and we are aware that we need the answers now if we want to stay up-to-date with the future!
What is artificial intelligence?

How does it work?

What are the different types of AI? 

What does the future of AI look like?

What are the benefits of AI?

What are the risks of AI?
AI is likely to continue to advance and become more prevalent in our daily lives. It will be important for policymakers and businesses to consider the potential risks and benefits of AI as it continues to develop.
By understanding the basics of AI and its applications, we can prepare for a future that is shaped by this exciting technology. That should be one of the reasons to attend the TMRW Belgrade!
How should businesses prepare for the metaverse?
As technology continues to evolve at a rapid pace, businesses must adapt to the latest trends and developments to stay ahead of the game. With the metaverse gaining popularity and becoming a more significant part of our daily lives, businesses need to prepare for this new era to stay relevant.
As the metaverse continues to evolve and become more prominent, businesses that are prepared will be well-positioned to succeed in this emerging space. By embracing the possibilities of the metaverse, businesses can create engaging experiences that connect with customers in new and exciting ways.
If you want to know how to prepare your business for the future, see you at TMRW Belgrade!
Advantages and Disadvantages of Artificial Intelligence
It sounds like something out of a movie, but some scientists believe AI poses an existential threat. To be clear, the last time one group became more intelligent than another, the less intelligent group did not fare well. And AI may soon surpass humans in intelligence.
On the other side, many of the world's development issues could be addressed by AI. 
The nature of AI is neither good nor bad. It all depends on how we choose to use it.
Maintain your power by learning more about the advantages and disadvantages of AI at TMRW Belgrade.
How will the metaverse affect the future?
When it comes to the metaverse, the future will provide us with a full-fledged experience, but what we are curious about is when such a future will be in our daily lives.
We can't wait to see how the big players act in the future, but more importantly, we want to know how we can contribute to content creation in the metaverse!
Who knows the answers to every question we have?
Speakers at TMRW Belgrade!
The Metaverse has the potential to impact everyday life
While technology is still in its early stages, it is clear that the metaverse has the potential to change the way we understand virtual socialization, remote work, education, entertainment, healthcare, and so on.
As the metaverse continues to develop, the possibilities for its impact on everyday life are endless. By embracing this emerging technology, we can unlock a new world of possibilities that could transform the way we interact, work, learn, and entertain ourselves.
Robo-Gaming: Navigating AI's Role in Virtual Playgrounds
Discover the future of gaming at our exclusive event, "AI & Gaming: Shaping the Next Frontier." Delve into the fascinating ethical landscape that unfolds as AI-driven bots revolutionize the gaming world. Engage with industry experts and thought leaders as they discuss the challenges and opportunities that come with AI integration, such as fair competition, social dynamics, and the impact on gaming communities.
Don't miss this unique opportunity to contribute to the conversation on responsible AI implementation, helping to preserve the essence of gaming while ensuring a balanced, enjoyable experience for all. Secure your spot today and become part of the AI and gaming evolution.
AI: Friend or Foe? Debating the Ethics and Risks of Artificial Intelligence
Join the critical conversation on the future of artificial intelligence at "AI: Balancing Progress & Ethics." Dive deep into the ongoing debate surrounding AI's potential as a friend or foe to humanity. Engage with thought leaders and experts as they discuss the transformative power of AI and address concerns about privacy, job loss, and misuse.
Be part of the movement towards establishing a balance between harnessing AI's benefits and mitigating its risks. Contribute to the development of ethical frameworks that will shape AI's role in our future. Don't miss this unique opportunity to help determine the trajectory of AI in our society.
Logic's Reach: AI and Robotics Boundaries
Join us for "Boundaries of Logic: Insights into AI & Robotics," an engaging event that will explore the capabilities and limitations of logical thinking in the realm of artificial intelligence and robotics.
Learn from industry experts, researchers, and thought leaders as they discuss how logical reasoning forms the backbone of AI systems, while also uncovering its constraints in tackling real-world complexities.
Don't miss this unique opportunity to delve into the fascinating interplay between AI, robotics, and human intuition, as we uncover the future of intelligence in a rapidly evolving technological landscape.

Get direct access to our industry experts

Meet thousands of new potential customers for your business

Join our social exclusive social gatherings and after parties

Raise funding for your start-up from over 500 investors

Share your voice amongst the industry leaders and pioneers to make a difference
Stay in the know on the latest TMRW CONF news.
Have questions about registration?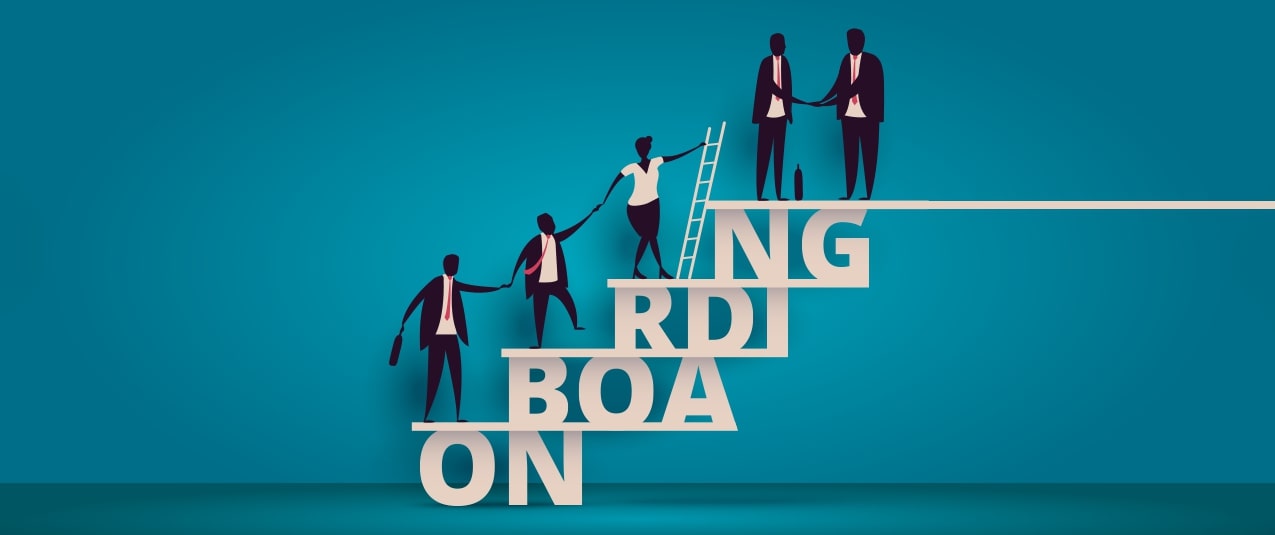 As Web3 grows, we need an appropriate pool of talent to progress. This is easier said than done—click here to see why. The Web3
Read More »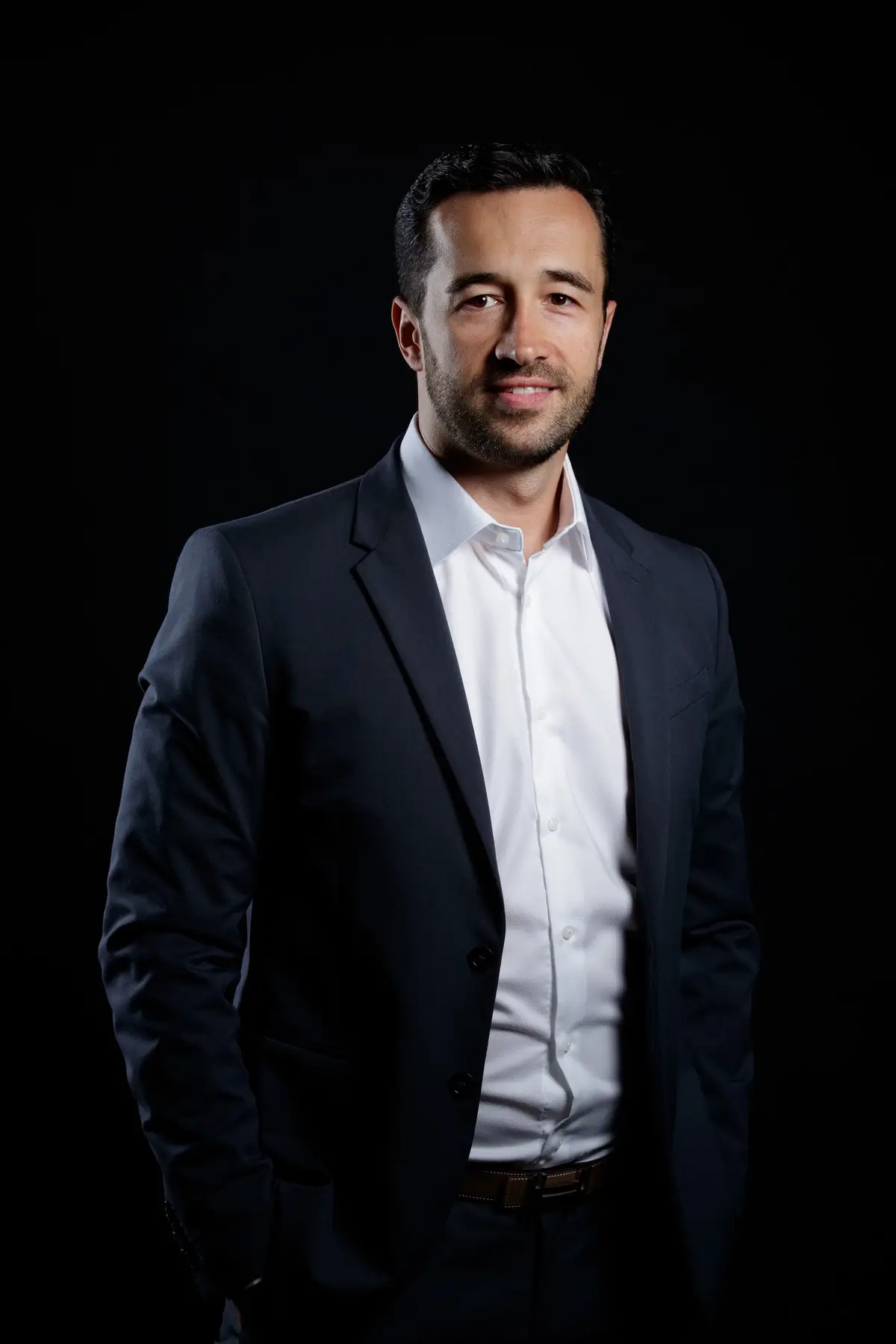 "Tehnologija ne treba da bude cilj sama po sebi!" Mlađen Merdović za "Blic Biznis" o "Tomorrow" konferenciji, njenim počecima i ciljevima
Naša ideja je bila da organizujemo događaj koji će spojiti niz edukativnih aktivnosti sa ciljem promovisanja razvoja, unapređenja i razumevanja inovativnih tehnologija. Tako je stvoren "Tomorrow" – ne samo kao obična konferencija već kao četvorodnevno iskustvo, priča u intervjuu za "Blic Biznis", Mlađen Merdović osnivač i direktor konferencije "Tomorrow".
NAJVEĆI TEHNOLOŠKI DOGAĐAJ U EVROPI! Tomorrow Konferencija u Beogradu od 12-14. maja, direktor u intervjuu za Informer otkrio značaj ovog događaja
Najveći tehnološki događaj u Evropi Tomorrow Konferencija, koji će okupiti više od 10 hiljada poznavalaca i ljubitelja blokčejna i veštačke inteligencije, održaće se u Beogradu od 12. do 14. maja 2023. godine. Naša prestonica će po drugi put biti domaćin ovakvog događaja, koji prema najavi organizatora predstavlja neponovljivo tehnološko iskustvo koje će u četiri dana okupiti svetska imena iz domena veštačke ineligencije (AI), blokčejna, gejminga, Metaverse-a i Web3.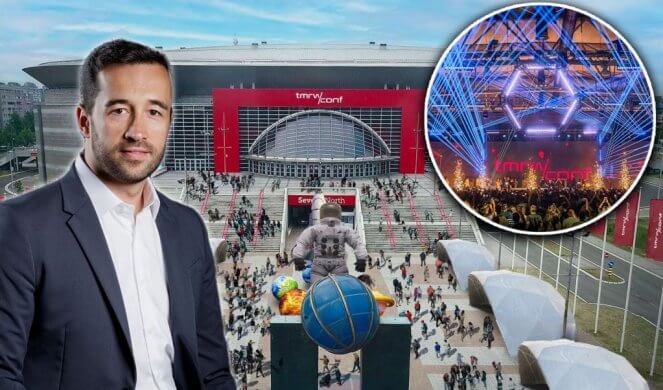 "TOMORROW" U BEOGRADU Konferencija sutrašnjice
BEOGRAD – Predsednica Vlade Srbije Ana Brnabić otvoriće u petak najveću evropsku tehnološku konferenciju "Tomorrow", koja će okupiti više od 10.000 poznavalaca i ljubitelja blokčejna, metaversa i veštačke inteligencije…